Viola wil receive an autographed copy of the book Animal Rhymes written by my cousin Katie Rauch. Thanks to all who entered my first giveaway!
Here's my Currently........
Love beginning the year with a shared reading of Tales of a Fourth Grade Nothing. The students love it and always beg for more. This past year we also received a class set of Superfudge, which we read and also really enjoyed. The students loved taking the parts of the characters and reading aloud. These two books were also great to use to teach dialogue and character traits.
The other book I love reading as a Read Aloud is Owl Moon. This picture book has so many great lesson ideas to use. Here are a few good links to great lesson ideas to use in your class.
I don't really have a "go to" book that I use in my classroom. My go to for ideas are all the wonderful blogs that I follow! Although, right now I am re-reading The Daily Five for the third time. I have learned a lot from this book and my classroom management and expectations of my students has changed drastically because of this book. Click on the Blog button below to participate in the Daily Five Book Study that just began yesterday.
And don't forget to Link up your Currently in July with Farley!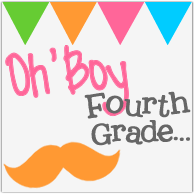 Last but not least I was awarded the One Lovely Blog Award by Southern Teacher WBT! Thanks!
Here are the rules for this award:
Once you receive the award, you have to pass it on to others! Here are the 3 rules to follow:
1. Follow the person who gave you the award.
2. Link back to the person who gave you the award.
3. Pass the award on to 15 new bloggers.
Here are the blogs I'm passing this award on to. Be sure to visit them!
2. Fabulous Fourth Grade
3. Fourth Grade Fanatic
4. Smarter than a Fourth Grader
5. Rodriguez's Rad Rockstars
6. Ms. Hatty's Magnificent Monsters
7. Fourth Grade Freebies
8. Just Wild About Teaching
9. Nerdy, Nerdy, Nerdy!
10. Computer Craziness
11. Exceptional Teaching for Exceptional Children
12. Mrs. Wilson's 4th Graders
13. iDream iPlan iTeach
14. Life's a Teach
15. Mrs. Ahmad's Apples